Dr. K.V. Prabhu, Joint Director (Research), Indian Agricultural Research Institute, New Delhi was born on 20th May, 1958 in a town Hubli of Karnataka. Dr. Prabhu did his graduation (B.Sc. Ag) in 1979, M.Sc. (Genetics and Plant Breeding) in 1982 from Banaras Hindu University (BHU) Varanasi and Ph.D. in Genetics from Indian Agricultural research Institute, New Delhi in 1986. Dr. Prabhu was awarded the prestigious Jawahar Lal Nehru Award during 1987 for his outstanding research carried out during Ph.D. programme.
He started his professional career on 1st October 1986 as Scientist (Plant Breeding) in the ICAR and was posted at IARI Regional Station, Tutikandi (Shimla) where he worked on wheat and barley working on the genetics of rust resistance and breeding rust resistant varieties. He joined the headquarters at New Delhi in 1992 to continue his work on wheat genetics and Brassica breeding. In 1998 he developed interest in basmati rice breeding and assisted the rice group in selecting. During the year 1997 he was deputed to Canada to take up a FAO Fellowship to help India develop controlled environment research facility. After coming back to India, in February 1998 he was given the additional responsibility of Manager Biology in the National Phytotron Facility of the Institute where he managed all the experiments conducted by various scientists across the country keeping international standards. In January 2003. Dr. Prabhu was given the overall responsibility of National Phytotron Facility. Dr. Prabhu has been instrumental in establishing this Facility since its inception and till date he is heading this unique and model system in the country where more than 900 projects dealing with biotechnology and molecular biology research have received services on 24x7 basis without any interruption since 1998. Dr. Prabhu headed the Division of Genetics, IARI from 11 July 2006 to 4 November, 2013 before his elevation to the post of Joint Director (Research), IARI, New Delhi on 26 October, 2013. 
Dr. Prabhu was instrumental in taking the issue of redefining basmati rice in India to enable development of high yielding basmati rices so that farmers of India can compete effectively in international market with value added basmati rice varieties. Dr. Prabhu persisted with the issue cutting across different departments and ministries of the Government of India for nearly three years till the definition was revised to the present one in 2007. He has been closely associated with the crop improvement programme of wheat, barley, brassica and rice. As a result he has been active contributor in the development of twenty three varieties of  which four are of rice (Pusa Basmati 6, Pusa Basmati 1121, Pusa Basmati 1509 and Pusa 6), seven of Indian mustard (Pusa Mustard 21, Pusa Mustard, 24, Pusa Mustard 25, Pusa Mustard 26, Pusa Mustard 28, Pusa Mustard 29 and Pusa Mustard 30), eight of wheat (HS 240, HS 207, HS 277, HS 295, HS 365, HS 342 or Mansarover, HD 3043, HD 3059, HD 3086 and HD 3090) and two of barley (BHS 169, BHS 252). Dr. Prabhu was one of the first team leaders of India to integrate plant biotechnology into plant breeding to bring precision in plant breeding in early 1990s in mustard and wheat. Under the leadership of Dr. K.V. Prabhu as Coordinator or Investigator, more than a dozen national and international projects have been carried out with successful outcome not only in wheat, mustard and rice but also in developing a team of plant breeders in the country many of whom are leaders now in their fields. The information generated through these projects is being utilized worldwide in the crop improvement programmes on these crops.
During his professional carrier Dr. Prabhu has been conferred many awards like Jawaharlal Nehru Award, ICAR Recognition Award 2008, Fellow, National Academy of Agricultural Sciences, Platinum Jubilee Award of Indian Science Congress Association, B. P. Pal Award, V. S. Mathur Memorial Award, Borlaug Award 2012, Rafi Ahmad Kidwai Award 2012 etc. His research expertise has taken Dr. Prabhu to represent India of different assignments from institutions and organizations such as FAO of the United Nations to more than 15 countries including four in Africa where he has been working in crop improvement research to benefit poor farmers.
 
Dr. Prabhu has guided four M.Sc. and 17 Ph.D. students and four are presently doing their Ph.D. research under his noble guidance and published 91 research papers in standard journals of Genetics and Plant Breeding.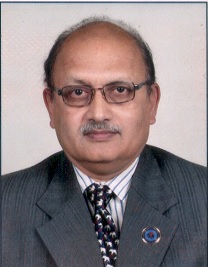 Dr K.V. Prabhu
Joint Director (Research)
E-mail

jd_research[at]iari[dot]res[dot]in

Education

Graduation (B.Sc. Ag) in 1979,
M.Sc. (Genetics and Plant Breeding) in 1982 from Banaras Hindu University (BHU) Varanasi
Ph.D. in Genetics from IARI, New Delhi in 1986

Award

1) Jawaharlal Nehru Award during1987
2)ICAR Recognition Award 2008
3) Fellow, National Academy of Agricultural Sciences
4) Platinum Jubilee Award of Indian Science Congress Association
5) B. P. Pal Award
6) V. S. Mathur Memorial Award
7) Borlaug Award 2012
8) Rafi Ahmad Kidwai Award 2012

Specialization
Wheat, Brassica, and Rice Breeding